WORKSHOPS & Special Events
Life is full of reasons to celebrate and Young Chefs® Academy takes these celebrations to a whole new culinary level! Whether we are celebrating a special holiday, hosting a community event, holding a fundraiser, partnering with a national brand, teambuilding, or given any opportunity to celebrate, Young Chefs® Academy encourages you to join in the fun!

See our upcoming schedule below and be sure to check back often as we are always cooking up ways to celebrate with you in our kitchens.
If you can't find what you are looking for or you're interested in something more specific, give us a call and we will surely assist you in finding what you need!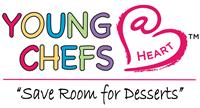 Young Chefs @ Heart Adult Workshop

with

Kia

Coachman
Fri, Aug 24, 2018 at 7:00 pm - 9:00 pm
Introducing Young Chefs@ Heart Series of Adult Workshops!!
Calling all ADULTS! Our Young Chefs™ students have agreed to share their kitchens with you! It's your turn to taste the one-of-a-kind experience that only Young Chefs® Academy can deliver, designed especially for our Young Chefs at Heart™.
Discover some of the delicate intricacies and flavors of French cuisine as we master time-honored traditional methods of the culinary arts. From Savory Soufflé's to Steak au Poivre and the classic French Onion Soup, each dish will surely be your culinary tour de force.
$49 per person
BYOB
Call for group discounts~
Sign up online or call to register
(404) 255- 9263
Families In The Kitchen

with

YCA

Chef
Sat, Aug 25, 2018 at 5:00 pm - 7:00 pm
Fiesta Fiesta!
Saturday, August 25th
5 - 7pm
Ages 5 to adults.
$99 up to 4 participants
Families in the Kitchen™ workshops are 2-hour, family-friendly, hands-on cooking experiences based on popular
themes. Each event provides valuable culinary instruction in a fun, relaxed environment.
Bring the family in for an exciting culinary adventure to cook and experience delicious flavors of Mexico!